Let us show you Iceland!
We are a family-run business. Jorunn Rothenborg, is a licensed driver-guide, through the Icelandic Tourist Board.
Jorunn is half Icelandic and half Danish, and moved to Iceland in her twenties. Here, she fell in love with the country and its people, and she has now lived in Reykjavik for more than 20 years.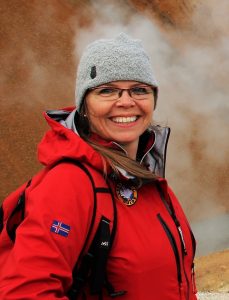 Jorunn says: "Moving here as an adult has given me a unique perspective of the island as seen though the eyes of a foreigner. I know that you will never tire of the beautiful sights in Iceland, as nature here will surprise you with new spectacular sights every minute of the day. I also have first-hand knowledge of Icelandic society, and will use this to guide you away from time-wasting pitfalls. With me, it's all about experiencing the best the country has to offer.
Along the way, I will tell you all about Iceland's history, geology and culture in a way that draws out all on the special things about the island. I will also give you a sense of the historical background shared by the the Nordic Countries through the centuries."
Briefly about Jorunn:
Born in England, raised in Denmark, now married with two sons in Iceland. She has lived in Portland, Oregon, USA and Japan. She is fluent in English, Danish and Icelandic, and has a good working knowledge of Norwegian and Swedish language.
She has organized groups of up to 250 people, and would love the chance to help you out. Send a request, no strings attached!